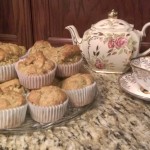 Ingredients
Preheat oven to 350 degrees
Start with: 3/4 cup milk
(for extra volume, add 2-3 teas. Vinegar and stir. Let sit 10 min. Then add 1 teas. Baking soda and stir well. Will become foamy as it sits and add volume to batter.)
Dry mixture:
2 1/2 cups flour (can substitute Gluten-Free flour–I included 1/4 cup milled flax seed to a mixture of gluten-free flours. Add 1 1/2 teas. Xanthan Gum, if using gluten-free flour. Can also use Spelt flour with or instead of gluten-free. Spelt doesn't need Xanthan.)
3 1/2 teas. Baking power
1 teas. salt (omit baking powder and salt if using self-rising flour)
Sift dry ingredients together.
Cream together:
1 cup mashed, very ripe bananas (2 medium-sized)
1 cup sugar (I use turbinado or raw)
3 tablespoons oil or melted margarine/butter
1 egg
Add flour mixture and milk to creamed ingredients, alternating 1/2 to 1/3 of each (easily stirred with a spoon until everything is combined and moist)
Stir in 1 cup chopped walnuts
Will make 18 medium-sized muffins in greased muffin pans or paper baking cups–bake for 20-25 minutes.
Or can be made as tea bread in greased loaf pans–bake for 50-60 minutes.