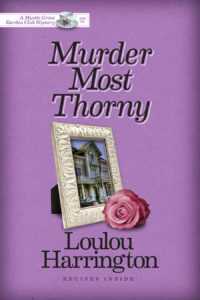 Myrtle Grove Garden Club Mystery Book 2
When Jesse Camden, owner of the Gilded Lily Tea Room and Coffee House, agrees to meet her childhood friend, Winnie Rogers, for a morning of girl talk and reminiscing, or fishing as Winnie likes to call it, Jesse anticipates a morning of shared confidences over a picnic brunch in the countryside. But spring in Oklahoma can be unpredictable, and when a tornado drops out of a wall cloud practically on top of them, Jesse and Winnie find themselves stranded with a demolished pickup and a dead body before they've even opened the picnic basket.
As the normally unflappable Winnie begins to cry and can't seem to stop, strangers who seem more menacing than helpful arrive, and the dead body turns out to be Winnie's recently divorced husband, Jesse realizes she has no choice but to call her nemesis Sheriff Joe Tyler for help. After that, things start to go downhill.