MURDER, MAYHEM AND BLISS Book Trailer just released!! Check it out.
---
MAY 2015
DONE BUT FUN: Went to Malice Domestic 27: May 1-3, 2015 in Bethesda, Maryland.
Sunday, May 3, I moderated the panel Murder's on the Menu: Food and Mysteries, with participants Connie Archer, Maya Corrigan, Mary Ellen Hughes, and Liz Mugavero, followed by an autographing session.
Thanks to everyone who attended. It was a terrific weekend. Hope to see you there next year.
---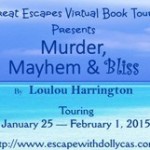 JANUARY 2015
Blog Tour for MURDER, MAYHEM AND BLISS Beginning Sunday, January 25 through February 1
Over now, but this was fun! Will let you know when the next one starts.
---
Review for Murder, Mayhem & Bliss
The 'reveal' scene of this whodunit is very slick, and it was enjoyable to see the people who thought they would get away with greed and murder brought to justice.
~Back Porchervations
---